Social Media Marketing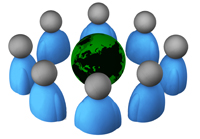 Connect your business with your target market using Social Media Marketing. It combines forms of public relations, advertising and marketing all into one. In recent years this type of communication has proven to be a cost effective method of building relationships with customers and overall brand awareness.
Simply posting a different sale every day isn't enough. A Social Media Marketing campaign should center on the creation of meaningful and relevant content which encourages readers to share it with their own social media connections.
The value of Social Media Marketing and its delivery method is that the message originates not from the business, but through trusted sources which endorse and spread the word, allowing you to create a community around your product and services and build a dialog with target markets. Make sure you utilize this form of marketing to its full potential.