Credit Card Processing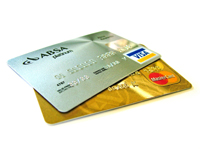 Although many different forms of payment are accepted online the most common form of payment sought by customers is by credit card. There are many different way to accept credit cards through your website.
The simplest methods of credit card processing which don't require a merchant account are payment services such as PayPal and Google Checkout. Although these are widely used they don't provide a seamless on-site transaction which improves the user experience. Most credit card processing services like these require the customer to login to their site as well to process payment, and then the customer is returned backed to your site.
The preferred method of accepting credit card payments through your website is by using a Payment Gateway which is a secure service that authorizes payments online, much like a POS Terminal.
Many of today's businesses still need their POS Terminal and/or credit card processing machines, but most need a bit more flexibility. If you process recurring charges to customers, online transactions, and also need the ability to process by phone, online, or on your smart phone (great for a remote workforce and off-site locations) credit card processing services from PayJuntion can fill all your needs. PayJunction is the leading IP 'Internet Protocol' solution developer for the transaction processing industry. Their services are comprehensive, covering merchant account activation, gateway services, and product deployment. As a Certified PayJunction Reseller we can provide you with the most flexible and cost-efficient payment processing solution. If you currently process through a different provider we are confident we can save you money. Why pay more? Give us the opportunity to provide you with a free cost savings report by clicking below.
Credit Card Processing Brochure