Website Hosting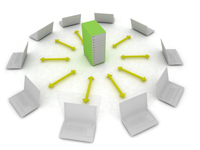 Our Website Hosting services are provided through our subsidiary Bonphire. They come complete with a 99.9% uptime guarantee, free software and unlimited storage. Best of all your website is hosted in our world-class data centers so you don't have to worry about a thing.
Shared Website Hosting is particularly useful for small to medium size websites. Our services are affordable, easy to use, and include 24/7 support. In addition, there's an extensive list of programming languages supported along with over 50 turn-key Add-on Applications included absolutely free!
There's no reason to risk having a slow website or a website that goes down frequently - choose Bonphire for world-class business website hosting services.
Cost
Shared Website Hosting can range from as low as $4.95 up to $14.95 per month for our unlimited plans.

Website Hosting Options
Website hosting generally come in two varieties (commonly referred to as platforms), Windows and Unix/Linux. Within those two platforms website hosting can be provided in two different structures: