Domain Name Registration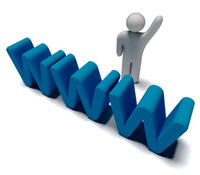 A domain name serves as your businesses online identity. Domain Name Registration reserves that identity for a annual registration fee. A domain name is essential in establishing your online presence. It is used in a variety of crucial applications such as your website, email, and in network identification.
A top-level domain (TLD) is the part of the domain name located to the right of the dot (" . "). The most common TLDs are .com, .net, and .org. These all have certain guidelines, but are generally available to any registrant, anywhere in the world.
Country-code TLDs (ccTLDs) represent specific geographic locations. For example: .mx represents Mexico and .eu represents the European Union. Some have residency restrictions. For example, .eu requires registrants to live or be located in a country belonging to the European Union. Other ccTLDs, like .it representing Italy, allow anyone to register, but require a trustee service if the registrant is not located in a specified country or region. Finally, there are ccTLDs that can be registered by anyone; .co representing Colombia, for example, has no residency requirements at all.
Cost
The cost of registering your domain name can go from $10 up. We offer domain name registration through our subsidiary Bonphire for one of the lowest prices in the industry - $9.99 per year, plus the mandatory ICANN fee of $0.18.