Remote Monitoring and Management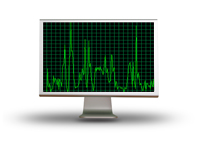 Our remote monitoring and management services will result in an overall lower cost of owning and supporting IT, more predictable costs, and help you avoid the large, unplanned expenses that are typically associated with unscheduled downtime.
You rely on your IT assets to operate your business, but maintaining and managing these investments can be costly, complicated and time-consuming, ultimately distracting you from your core business activities and using up resources.
Our software-based remote monitoring and management solution automatically performs secure, comprehensive scans of your IT environment to gather up-to-date information about the health and performance of your assets.
This information allows us to be alerted about problems as they are evolving, deliver rapid remote remediation when issues arise, and perform maintenance tasks with unparalleled efficiency, all of which save you money.

We can proactively monitor and manage anything with an IP address, including:
• Desktops
• Laptops
• Servers
• Managed switches
• Routers
• Firewalls
• Gateways
• VoIP switches and phones
• Printers
• Faxes
• Scanners
• Off-the-shelf and custom applications
• Specialized equipment
• Environmental control devices
• Internal and external web sites
• Virtual machines
• And much more!