IT Infrastructure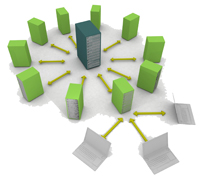 At the core, your IT Infrastructure directly supports the flow and processing of information. As your business grows your IT Infrastructure should grow with you. We develop flexible solutions and strategies directly in line with their current and future needs. A scalable infrastructure is essential to sustainable growth.

We provide access to top notch infrastructure, service and support you won't find elsewhere.
Servers & Workstations
Let us simplify the process of choosing a client / server infrastructure that will serve your needs today and well into the future. We specialize in matching your current and anticipated business requirements with the best technology available.

Networking
Businesses are become more reliant upon their "connection" to the world. What was once simply email and internet browsing has given way to virtual private networks, video conferencing, and cloud computing. Ensure your communication channels provide your business with appropriate access while maintaining reliability, security, and privacy.
Data Storage
Businesses are accumulating more data as their reliance on technology increases. When you combine this surge of capacity requirements with new government retention policies, many companies are simply outgrowing their forecasted needs. There's no choice but to increase capacity. We will construct an environment that improves productivity and manageability while providing flexibility for future growth. Our expert experience and vendor relationships allow us to provide the best solutions available.
Upgrades
Typically every three to five years some form of system upgrades are necessary to keep up with rapidly advancing technologies. We will strategically evaluate their business value and advise you on the necessity of upgrading. As technologies get older and systems get outdated they often become more costly to maintain and support. We can help identify aging infrastructure and schedule, execute and manage a well tested plan to meet business requirements, reduce costs and minimize future risk.